Driveway to NATIONWIDE Story
Are you all ready to find out how our food drive that started on a drive way is going to become a Nationwide initiative?
In the year 2012, we hosted our first food drive on a drive way with very few families. Year after year, we expanded rapidly covering more than 20 communities across the Chester County donating to 7 food banks. Out of these 7 food banks, one happened to be West Chester University Food Pantry and this is where we found our opportunity to go Nationwide.
Our youth volunteers visited the university pantry, and walked away with mixed emotions. They were shocked to find out that students also needed help, happy to learn there's a pantry helping them and extremely content to be involved with helping these students.
These mixed emotions drove us a long way, we then started working with university pantries from East Coast to West Coast – Penn State, Rutgers University, University of Maryland, University of Delaware, Kansas City, University of California, University of Seattle, Washington and many others.
We established connections with all these universities and agreed to serve them with local volunteers in their states, standing true to our motto – "Helping local people in need".
If you want to be a part of this nation-wide food drive, please contact us at diwalifoodrive.com. I would like to request you all to take a minute, watch a video of our Nationwide volunteers and help in any way you can.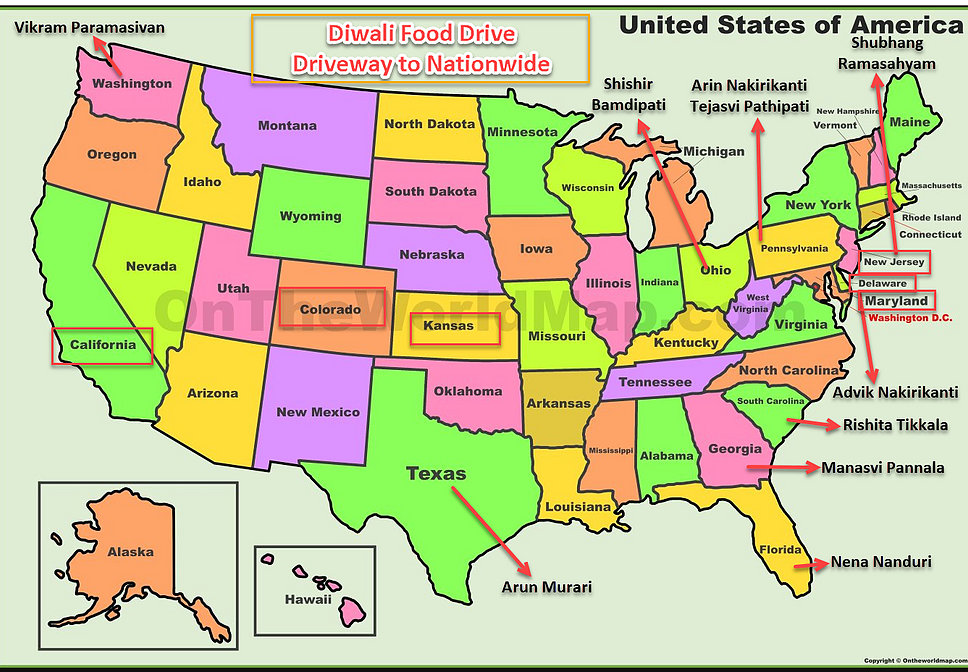 PA – Arin Nakirikanti – West Chester – University Pantry PA – Tejasvi Pathipati – Penn state – University Pantry
CA – University Pantry
CO – University Pantry
DE – Advik Nakirikanti – University of Delaware – University Pantry
FL – Nena Nanduri – University of Florida Pantry – University Pantry GA – Mana
svi Pannala – University of Georgia – University Pantry
KS – Kansas State University – University Pantry
MD – University Pantry
NJ – Shubhang ramasahyam – Rutgers University – University Pantry
OH – Shishir Bamdipati – University of Ohio – University Pantry
SC – Rishita Tikkala – University of South Carolina – University Pantry
TX – Arun Murari – University of Huston – University Pantry
WA – Vikram Paramasivan – University of Washington Seattle – University Pantry